The One and Only!!! The Golf Pro Dial is Here!!
The Golf Pro Dial is golf advisor you can carry in your pocket! It is made of durable, long lasting, waterproof plastic. Anytime you need a pro's advice, dial it up on the Golf Pro Dial. It is like having a Golf Pro with you all of the time!

Order now !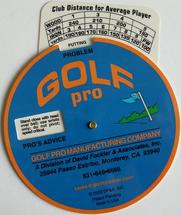 Order now !

You Can Have A Golf Pro in Your Golf Bag to Consult on Every Shot!!
You Will Never Hit 2 Bad Shots in a Row!!
Easy to Use!!
Simply Dial the Problem and the Answer to the Problem is Immediately Shown to you to Correct!!
It Will Fit Easily in your Front tee Pocket of Your Golf Bag . Ready to use at Anytime!!
Reduce Your Score By Several Strokes Each Round by Eliminating The Same Mistakes Over and Over!!

-"I learned to play golf using the Golf Pro Dial" -Leslie J. Hartford CT.

-"I have been playing golf for twenty years, once a week, and Golf Pro Dial cut six strokes from my average" -Steve S. Chicago, IL.

-"I play once a month and would not play without my Golf Pro Dial" -Paul S. Salinas CA.

-"The Golf Pro Dial is the best golf tutor that has been introduced to help the beginner to the single digit handicappers" -Tony C. 2 Handicap, Pebble Beach,CA.






Order now !




Buy Several!! It Makes a Great Golf Gift!!